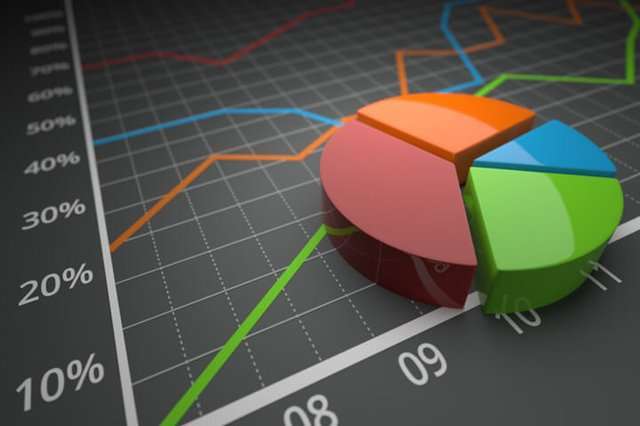 How to Increase Conversion Rate on Shopify (5 Ways)
The truth always remains that every Shopify Store is built with the purpose to make sales. It's absolutely normal to desire lots of traffic on our stores, but what use does it make when non or very little of that traffic converts to sales?
The average conversion rate for Shopify is 1.8% according to Littledata's February 2022 data. This means that if 100 people visit your Store whether through email, search engine traffic, direct, or social media, just approximately 2 people will make that purchase.
If you have a conversion rate of 5.2% it means your business is among the top 10%, this is to tell you how hard conversion rate can be. But, you don't want your store to be among those with a 0.5% conversion rate – if you're, we got you covered in this article.
On the bright side, even if only 2 customers purchased your product out of 100, it's not bad, and if you're selling a high-end product, that is a lot of profit. But, this article aims to help you be among the top 20% – perhaps the top 10% – of Shopify Store owners.
With the help of experience, and proper research, getting information on how to increase conversion rate on Shopify has never been easier, let's get started.
How to Increase Conversion Rate on Shopify
There is no once and for all solution to increasing your conversion, but with some series of techniques, I bet you'll start seeing positive changes.
1. Make the UX (User Experience) Simple
Let's divert a little bit, one of the things I love about top, classic brands like Versace and Gucci is that they make their homepage very simple. And, it portrays a psychology of top quality, exclusivity, uniqueness, and high taste.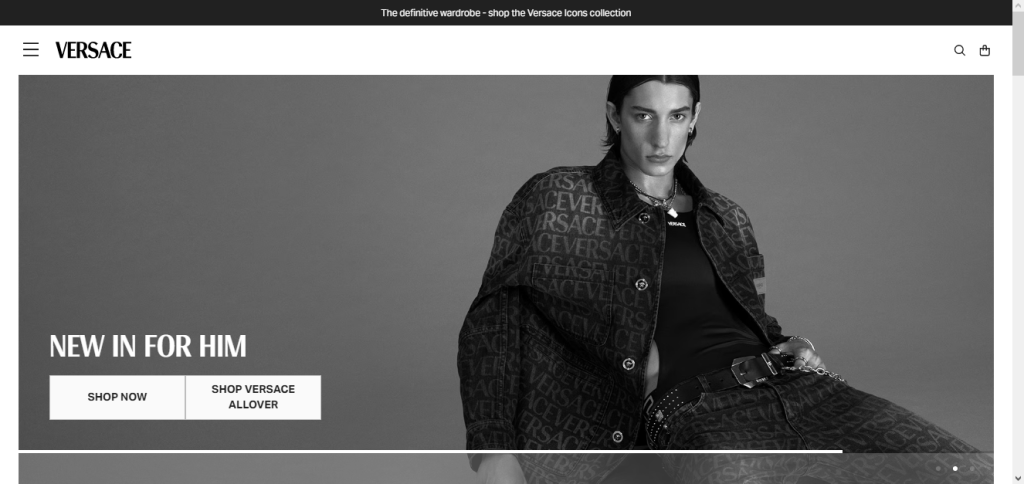 You should also copy this strategy to your Shopify homepage, don't clutter your homepage with several pictures, and products, it can send the potential customer away immediately. First impression matters a lot, and it mostly begins on your homepage, insist on using simple catchy words, and don't complicate things.
2. Boost their Morale with Free Shipping
Free Shipping is another strategic way to increase conversion rate in Shopify, mostly because prices of goods are increasing as time goes on. Lots of businesses are already making shoppers pay for their delivery, well, you can be different.
And the good part is free shipping has continued to impact purchasing for 75% of global shoppers, and it reduces cart abandonment. As a matter of fact, most customers now expect to get free shipping, it's gradually moving from a choice to a must-do.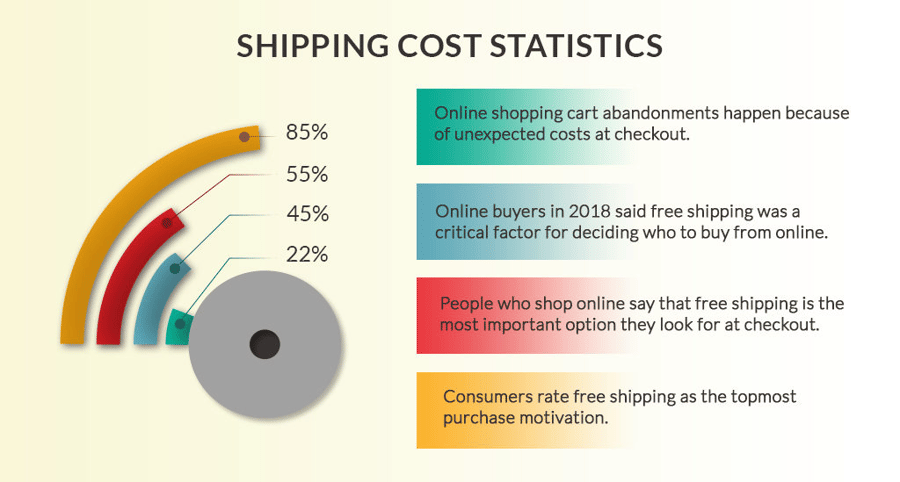 (source: Primaryparcel.com)
But, one of the questions that might be bubbling into your mind when you offer free shipping is, how do I recover the expenses of the shipping cost?
You can increase the product price: but make sure that difference between your price and competitors' is not so much
Establish a minimum amount per order for customers to qualify for free shipping
You don't need to use free shipping for every product.
3. Revolutionize your Customers' Shopping Experience with Coupon Codes!"
Outside customers love for free shipping, several customers are dying to snatch the best coupon code for products they need. Even me, promotional codes influenced most of the online products I've gotten, making it one of the best ways to increase conversion rate on Shopify.
In fact, I'm not alone here, RetailMeNot, a big coupon company made a survey and discovered that 80% of shoppers made their first purchase with a brand because of an offer or discount. Actually, lots of customers have even made purchases they never initially planned to get because of a huge discount or coupon code they saw.
When creating your promotional code or discount, don't forget to add urgency through expiry dates — a countdown expiry date works perfectly. Or you can make a statement like "coupon ends in 23 hrs," or "Today Only."
FashionNova has a perfect example of this.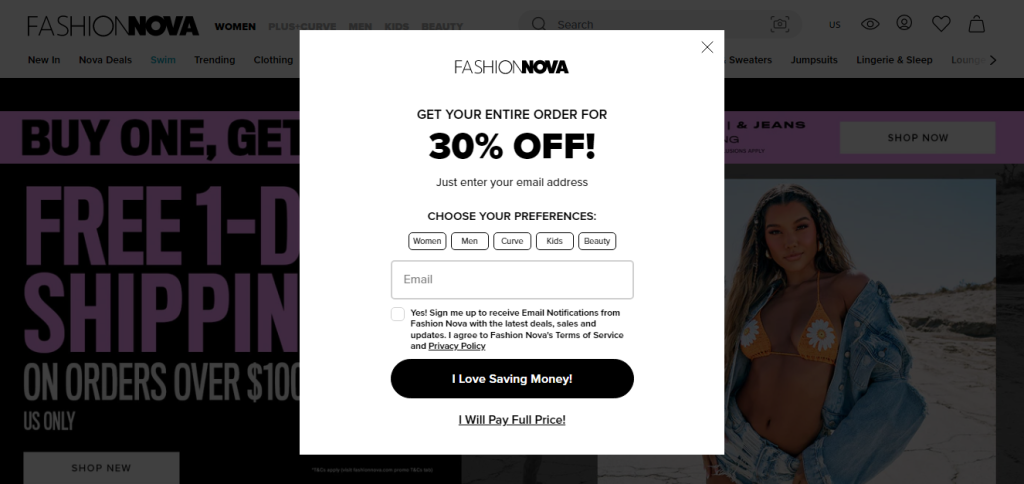 first of all, visitors will receive a quick pop-up offering a discount in exchange for Newsletter sign-up.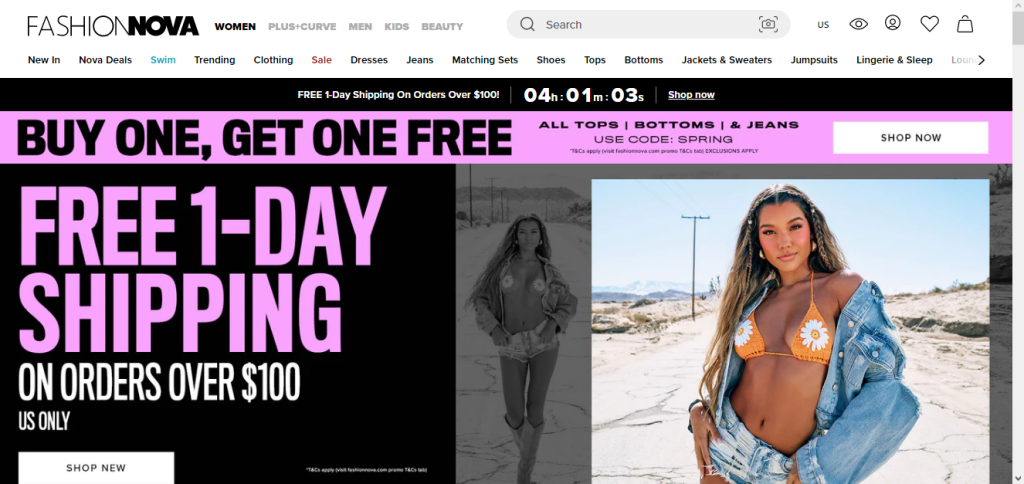 But, they are not yet done, you still have "FREE 1-day Shipping on Orders Over $100," (remember what we said about establishing a minimum amount per order for customers to qualify for free shipping) then they added urgency – countdown.
Furthermore, they also offer a buy-one-get-one-free strategy, which does amazing work for first-time shoppers.
4. Introduce Guest Checkout
Introducing a guest checkout might still be a debate about whether it's a good way to improve conversion rate on Shopify Store, but what remains obvious is the fact that the current eCommerce cart abandonment rate is now an average of 74%. A lot happens during the checkout moment, with lots of thoughts on the customers' minds, but one of the things you don't want to do is to increase their skepticism or waste their time.
And, a lot of businesses do this by insisting they create an account. Look at these statistics from Baymard Institute.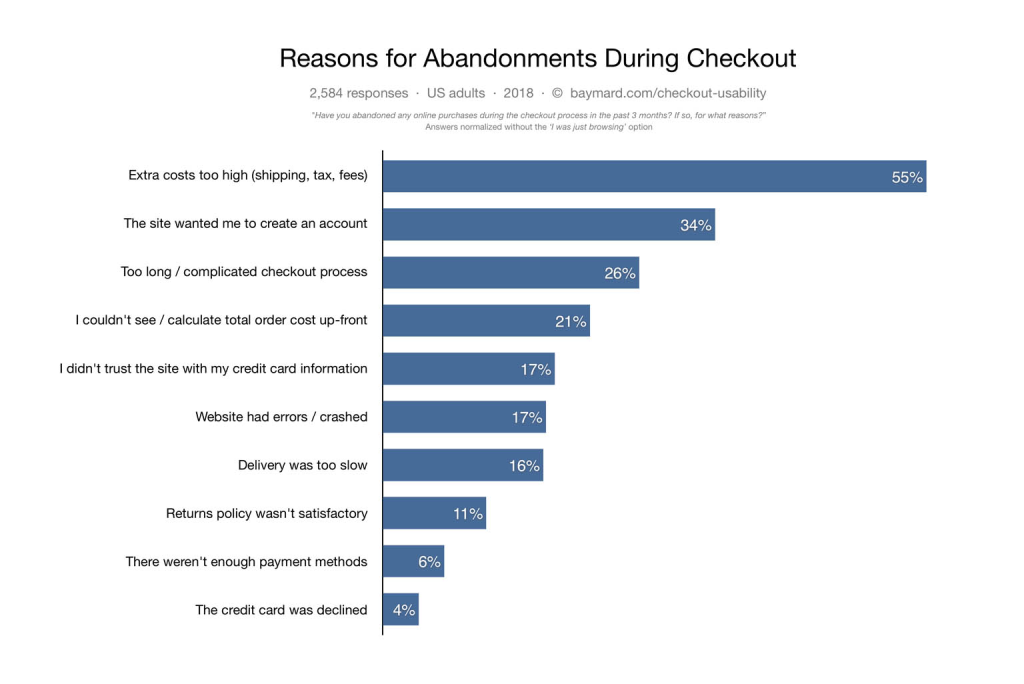 You'll realize that 34% of the users abandoned an order because they were not offered an e-commerce guest checkout option, they were told to create an account. You should apply guest checkout mostly on first-time shoppers, because these set of users are still very skeptical and protective, especially with their personal information.
Fortunately, you will still have their contact anyway, when they make the purchase, because they need to add their shipping details, so you shouldn't worry about losing connection with your customers.
5. Build Trust with Shoppers ASAP
Building trust is one of the best ways to increase conversion rate on Shopify, and it matters a lot in any purchase, especially in online shopping. In fact, TrustPulse gave shocking statistics that 70% of visitors never return because they don't believe you can be trusted. And another statistic from them also showed that 92% of people will trust a recommendation from a peer.
This means you seriously need social proof to build trust with potential buyers. Gone are the days when customers will blindly buy products just because the brand portrayed it to be the "greatest, and best," currently, they will most likely head down to the recommendations, and reviews, to know if a store is trustworthy.
In the words of Alex O'Byrne, "Trust is the first principle of conversion." And, some of the ways to build trust are to;
First start with a good first impression through your homepage. Let your homepage be simple, like we said earlier, with few (but catchy) write-ups.
Use testimonials, reviews, accolades, awards, live sales notifications, trust signals (such as TrustPilot), etc.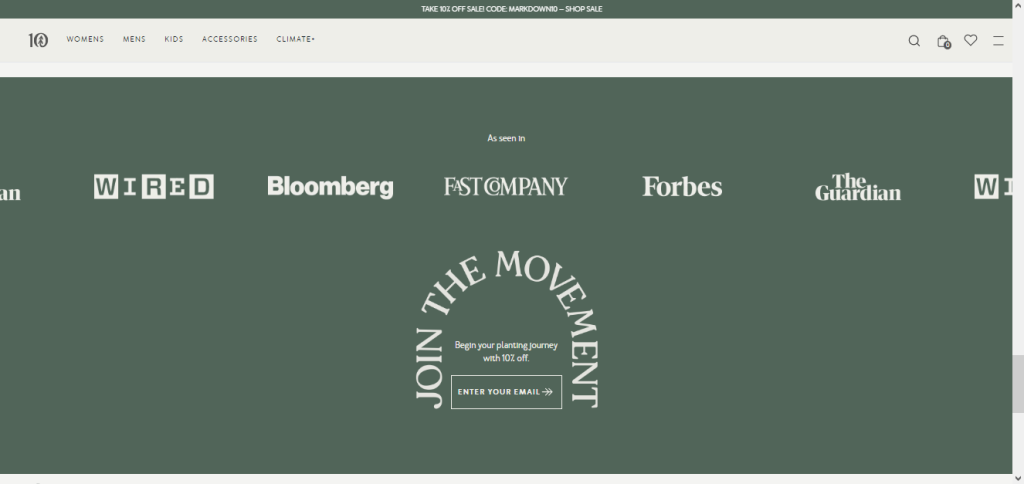 I love how Tentree used recognition from top companies to build trust.
Even if you don't have such recognition, and probably starting as a beginner, you can still build trust by introducing yourself (the brain behind the business), if possible with a video intro on your About page.
Another way to do this is through content like blogging, if you're not blogging whether as a beginner or pro, you're leaving a lot of money in the laps of your competitors.
Conclusion
As we said earlier in this guide on how to increase conversion rate on Shopify, there is no once and for all solution, but with the solutions we've listed (when applied properly) you'll start seeing quick conversions.